About Dr. Bijander Jain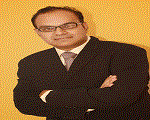 Dr. Bijander Jain B.D.S. , MIDA , MIDR , FIA (Fellowship of Indian Orthodontics) Consultant Dental Surgeon Clinical Orthodontist.
1 . Life member of Academy of Oral Implant
2. Member of Dental Practioner Forum of India
3. Member of Indian Academy of Esthetic Dentistry
4. Member of Indian Dental Association
5. Member of International Association of Dental Research
Dr. Bijander Jain is a specialist orthodontic, having experience of more than 25 Years. He received his Bachelor in Dental Surgery (B.D.S.) from Amravati Dental College, Maharastra, which is one of the best institution not just in India but whole of Asia. Dr. Bijander Jain is uniquely qualified to provide excellent orthodontic care to patients.
He performs procedure including Orthodontic, Endodontic Therapy (Root Canal Therapy), Endodontic Retreatment, Dental Surgery, Treating Cracked teeth, and Treating Dental Trauma. He is also expert in all type of dental treatments such as Restorative (Dental Restorations, Crowns, Bridges), Prosthetic (Dentures), Dental Implant, Periodontal (Gum) Therapy, and Exodontias (Extraction of Teeth).
Jain Dental Hospital & Implant Centre is a place where he strives hard to provide excellent endodontic care in a comfortable, friendly, and professional environment. This environment enables him to treat each and every patient that comes to his clinic with exceptional care. As a result, he is able to achieve outstanding orthodontic outcomes.
He does everything he can to make his patients feel comfortable about his treatment. This starts by involving his patients with the treatment process, and explaining how he can help save their teeth. He utilizes state-of-the-art technology such as operating microscopes, fiber optics, ultrasonic instrumentation, and digital imaging to deliver the highest quality of care. Advanced technologies along with specialized techniques gives him a very accurate view of the tooth, and allow him to treat a patient very quickly and comfortably. "Most patients are pleasantly surprised once their treatment has been completed."